Lady Gaga missed performing and her fans but not fame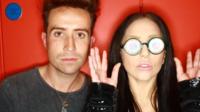 Lady Gaga says she didn't miss fame during her recent break from live shows.
Talking to Radio 1's breakfast show host, Nick Grimshaw, the 27-year-old admitted: "I missed being on stage.
"I always love seeing my fans outside, but I wouldn't say I missed the fame, if that makes any sense."
But Gaga, whose real name is Stefani Germanotta, said she was happy to be back to show her fans her new album, Artpop.
When the Radio 1 DJ asked if she missed being followed by paparazzi the singer replied: "I think what I've realised more than anything is that I'm really not in it for that at all."
The Applause singer also talked about recent hip problems in the interview.
The 27-year-old singer said she had a "tear" and a "crater" in her hip.
She added that it was down to dancing and not resting enough.
"I had a labral tear, which is really bad and very painful," she said.
"But then they found a crater in my hip, from repeated use and dancing too hard and fatigue and doing a lot of shows.
"But I'm really happy to be back and I do feel back, because even though I'm present in my mind as a person, I don't really feel truly alive unless I'm on stage."
On Sunday night Lady Gaga opened the iTunes festival in central London and performed a number of previously unheard tracks from her new album Artpop.
"I have been gone, I've been gone on tour," she said. "I've travelled the whole world with The Born This Way Ball. It was amazing."
Lady Gaga was forced to cancel her The Born This Way Ball tour while touring the United States after having surgery on her hip.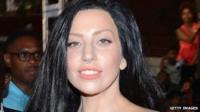 Nick Grimshaw asked Lady Gaga if she could really rest after the surgery.
"I laid in bed, and in the Applause video you can already see me doing the choreography on my back," she said. "That's actually indicative of what I was doing at the time.
"[I was] thinking about what I would be doing for the next album cycle and thinking about Applause.
"So I've been planning it. The downtime was really good for me because I love creating and I love song writing, so I really got to make love to the music."
Follow @BBCNewsbeat on Twitter