Gary Barlow denies he has plans to leave The X Factor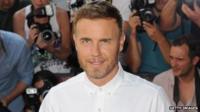 X Factor judge Gary Barlow has denied rumours that he has made a decision to quit the ITV show next year.
Rumours started circulating after host Dermot O'Leary said the singer was leaving the programme after the present series ends.
But Gary Barlow said: "In all honesty, I honestly don't know, it's too early."
The 42-year-old also admitted he was busy working on the score for the stage version of Finding Neverland and a new Take That album.
The singer/songwriter made the comments at the launch of the 10th series of The X Factor, which starts on Saturday.
"There will be a Take That album next year, I can promise you that," he said.
"I was asked this question [about quitting The X Factor] last year at the same time but it's far too early to tell.
"Ask me about two weeks into the live shows and I'll give you an answer on that. But it's far too early.
"Even though my plane landed at six o'clock this morning, I'm ready."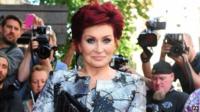 Gary Barlow also confirmed that he would be looking after the groups on this year's show.
"I think groups historically have been good on this show," he said. "We all remember One Direction and JLS.
"I think I've got a good category this year. And a category that honestly I can bring some good experience to.
"I've always been in a band and had my most success in a band and I can hopefully offer them the advice they need to do well."
Sharon Osbourne will be looking after the over-25s and when asked whether it was a poison chalice, she asked: "Are you ageist young man?
"Age has got absolutely nothing to do with talent, you've either got it or you haven't."
The X Factor starts on ITV on Saturday.
Follow @BBCNewsbeat on Twitter