2 Chainz arrested in Oklahoma after a police stand off
28 August 2013

From the section

Music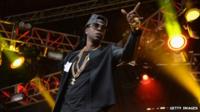 2 Chainz was arrested in Oklahoma after refusing to get off his tour bus.
Eleven people, including the rapper, were arrested for obstructing a police officer after not leaving the vehicle for nine hours when they were stopped.
An officer pulled the bus over because none of the rear lights on the passenger side were working.
The 35-year-old rapper, whose real name is Tauheed Epps, had performed with Lil Wayne and T.I. the night before.
2 Chainz, formally known as Tity Boi, was a member of the rap duo Playaz Circle before going solo.
His debut album, Based on a T.R.U. Story, topped the US Billboard charts when it was released in August 2012.
Further police reports add officers "smelled an overwhelming odour of marijuana" when the driver opened the door and "could actually see smoke inside the bus around the door."
Earlier this year, he was let off charges of having marijuana after a previous traffic stop.
In this latest arrest, when the rapper and his entourage refused to let officers search for drugs, officers towed the bus to a nearby police training facility.
The group finally walked off after investigators obtained a search warrant.
2 Chainz recently talked on Twitter about being tired of his tour bus getting stopped by police.
"Our bus gets pulled 1 a week and they always say... I need to search ur bus," he tweeted.
According to reports, all eleven were released after paying a $2,000 (£1289) bail.
However, police say they found evidence of drugs on the bus and that more charges could be filed later.
2 Chainz' new album, B.O.A.T.S. II: Me Time, is set to be released next month.
Follow @BBCNewsbeat on Twitter