Your view: Badger cull begins in the West Country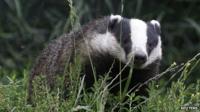 About 5,000 badgers are expected to be killed in the next six weeks, as a controversial cull begins in the West Country.
The National Farmers' Union confirms night-time shooting has started in Somerset, despite protests.
Killing is also expected to start soon in parts of Gloucestershire.
Supporters say the cull is necessary to tackle TB in cattle but campaigners say it is inhumane and will not work.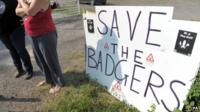 Infected badgers are thought to pass on the disease to cattle through their excrement.
If their cows are found to have bovine tuberculosis then farmers must destroy them.
Protestors want farmers to start vaccinating badgers against TB but the Environment Secretary Owen Paterson says the disease is spreading too quickly.
"If we had a workable vaccine we would use it," he added. "A vaccine is at least 10 years off."
Jay Tiernan from the Bristol-based group Stop the Cull says farmers in the cull-zones should expect a "bloody war".
"We'll go out at night-time and disrupt shooting," he said.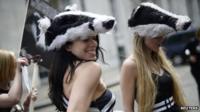 Rob, a 30-year-farmer from Somerset, told Newsbeat: "No farmer wants to see badgers eradicated but they're causing a problem for the livestock we farm."
Badgers have no natural predators, he added, and by reducing the numbers, it would result in the general population of the animal becoming "healthier".
Badger vaccination is already happening in Wales and there are plans to introduce it in Northern Ireland. Scotland is classified as free of TB.
Newsbeat listeners have shared their views on the badger cull.
Steven Cross
"Restrict badgers' movements but don't just kill them off. They have as much right to live as everything else."
Rob Cornish Dyer
"I'm all for the badger cull but as a farmer I can see its not going to work.
"You can't just kill everything for a couple of months and then stop.
"Farmers and landowners need to be able to control the numbers at any time."
Imogen Curtis
"They should be vaccinating, not slaughtering the badgers. It's going to seriously disrupt the ecosystem and what for?"
Nathan Saleh
"Badgers, foxes etc are all vermin and their numbers should be controlled.
"They should be destroyed as and when it is deemed there are too many of them."
Follow @BBCNewsbeat on Twitter