Lauren Aquilina: Headlining BBC introducing is 'insane'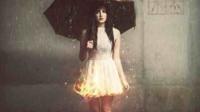 It might the smallest stage at this year's Reading and Leeds festivals but you would be mistaken to judge it by its size.
The BBC introducing tent has hosted some of the biggest artists around today, when they were relatively unknown.
Jake Bugg, Alt-J and Two Door Cinema Club have performed on the stage.
This weekend an 18-year-old singer songwriter from Bristol will headline this small but influential stage.
"I can't even believe I was asked," says Lauren Aquilina about her Reading and Leeds debut.
"I am flying back from New York to headline the BBC Introducing Stage which is just absolutely insane."
Aquilina says she started writing and singing when she was about eight or nine and it might be because of the people next door.
"We actually got gifted a piano from my neighbours which I started to learn," she explains.
"I don't think I ever realised [I had a talent], I still don't think that, I just feel really lucky.
"I met my manager when I was 15 and he was the first person to tell me that you can actually do this."
Deeper than pop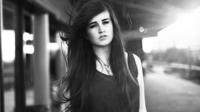 Lauren's early musical experiences were shaped by what her parents were listening to and says Stereophonics, Coldplay, Red Hot Chilli Peppers and Annie Lennox have all been influences.
She adds: "Then when I was about 13 or 14 I got more into pop music and acoustic music and I started to listen to Ellie Goulding and Bon Iver."
Lauren finished her A-Levels this summer and while her friends were thinking about university, she's been writing and performing ever since her last exam.
According to Aquilina, her music is pop driven, but she hopes it's a bit deeper than that.
She says: "It all comes from my personal life, I am great believer that honesty is so important in lyrics"
"I try and write about my personal life but sometimes it is exaggerated because I am not really as sad as the songs make it seem."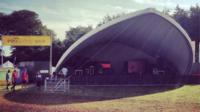 The young singer has her parents' backing who, instead of insisting she goes to university, are happy for her to pursue her music career.
"She [Lauren's mum] told me she wants to be the person who buys me a drum skin with my name on it for whenever that happens."
The 18-year-old will release a second EP before a full album as she says she wants to "really build my sound to the final level."
Lauren is set to tour in September, six out of the eight dates are already sold out.
Follow @BBCNewsbeat on Twitter or @bbcreadingfest and use the hashtag #bbcreadingfest