British soldier given bravery award by a Danish prince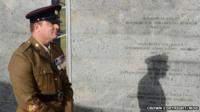 A soldier who used his body as a shield to protect colleagues giving medical treatment has been recognised for his bravery by the Crown Prince of Denmark.
Warrant Officer Class One Andy Peat got the award for his acts in Afghanistan.
After a Danish soldier accidently set off an IED (improvised explosive device), WO1 Peat disarmed the device under the man and lay across another so the wounded man could be evacuated.
He told Newsbeat it was an "easy, simple" decision to make.
This is the first time any soldier has received this award outside of the Danish military.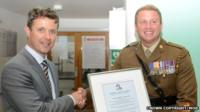 At the time of the explosion WO1 Peat was only five metres away. After helping the injured man, Oversergeant (WO1) Rene Brink Jakobsen, he noticed the threat of more IEDs, including one directly under the hurt soldier.
Warrant Officer Andy Peat, a bomb disposal technician, disarmed the device under the wounded man, he then lay across the path of another IED so his colleagues could safely manoeuvre the stretcher.
Oversargeant Jakobsen later died of his injuries.
During the award ceremony in Copenhagen, WO1 Peat and his family met with Oversargeant Jakobsen's wife and children.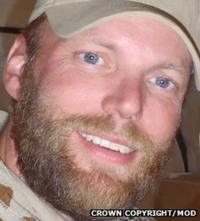 As part of the award, he was given a financial grant which he decided to donate.
"I wasn't overly comfortable with the prospect of being given money as much as it's meant in the right sort of manner because as far as I was concerned it wasn't a success because a guy ended up dying.
"The only people who lost out that night were the soldier's family, his wife and kids. I'm just doing my job.
"Personally I thought it was only right and proper [to give the family the money]."
Camilla Brink Jakobsen said she was "overwhelmed" be given the money.
"I really appreciate what he did in Afghanistan and I'm very grateful that he would think of us in this way," she added.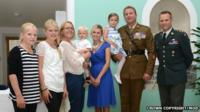 Lieutenant Colonel Claus Wannen, head of the Danish Special Forces, said: "Warrant Officer One Andy Peat made an extraordinary contribution.
"On that tragic day he proved his worth and it's most likely he saved a number of lives that evening."
Currently on leave, WO1 Peat will soon be returning to Afghanistan.
He said that although he was the one to receive the award, he wasn't the only person who acted bravely on the night.
"This was from start to end a team effort. I've just done my little piece inside that larger team."
Follow @BBCNewsbeat on Twitter