Rapper DMX arrested for marijuana possession in US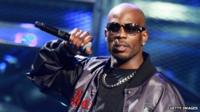 Rapper DMX has been arrested in South Carolina for possessing marijuana, two days before he was due to appear in court on drink-driving charges.
The musician, whose real name is Earl Simmons, was stopped by police on Tuesday after the truck he was in broke a traffic rule.
Officers then found three bags of the drug, an official report said.
The rapper's press representative Domenick Nati denied that drugs had been found in the vehicle.
A statement said: "No drugs were found on DMX or the other passengers.
"The alleged bags of marijuana were never shown to DMX or the other passengers.
"DMX was released this morning [Wednesday]... and is back at his home in South Carolina."
Last month the rapper was arrested and charged with driving under the influence and for not having a driving licence.
Days later he filed for bankruptcy protection in New York.
Court papers show the 42-year-old has less than $50,000 (£32,500) in assets and is between $1 million (£656,000) and $10 million (£6.5m) in debt.
He owes $1.24 million (£814,000) in child support and more than $21,000 (£13,700) on a car lease.
DMX released his seventh studio album, Undisputed, in 2012 after a gap of six years.
Follow @BBCNewsbeat on Twitter