Jessie J 'uncertain' about future of The Voice on BBC
21 August 2013

From the section

Music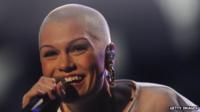 Jessie J says she doesn't know whether there is a future for The Voice.
The singer quit the show in July because of her work schedule, Danny O'Donoghue left weeks later.
There are now rumours the remaining two coaches, Tom Jones and will.i.am, will not return for the third series.
The BBC says it is still in talks with them and will announce the line-up soon. The coaching panel said in the past they would only continue in their roles if they were all in it together.
When asked if she thought there was a future for the show, Jessie J said: "I don't know, that's the honest truth. I can't predict the future."
She said she enjoyed her time on the show but is about to release her second album Alive and will not have time for both.
"All I know is that when I went in to the show I gave it everything, I tried to be myself," she said. "I was critical. I worked really hard as a coach.
"The hardest thing is you can't control what the public want, it's weird because they crave real.
"But then you give them real and then they don't want real, so who knows?"
A tour following the first series of The Voice had to be cancelled because of poor ticket sales.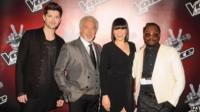 Then last year's winner Leanne Mitchell's debut album failed to make it into the top 100 in the official UK album chart.
This year's series also suffered poor ratings.
A third series will go ahead but it will be no surprise if there is a new line-up on the coaching panel.
Jessie J thinks that could be a good thing for the show's credibility and for its contestants.
"I can't sit on a coaching panel and say we're doing this right now," she said. "This is us, we're successful, listen to us.
"Then if I can be sitting in that for seven months, I'm not successful.
"There should be a fresh batch of people that go, 'Right now you can learn from us.'
"I feel like if it is the same batch of coaches then we're not putting out music, so what are we doing to teach you?"
Follow @BBCNewsbeat on Twitter