Cairo student says it's 'too risky' to go to university
19 August 2013

From the section

Politics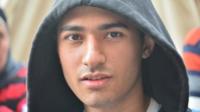 Twenty-four police officers are said to have been ambushed and killed in the north of Egypt.
Egypt has been in a state of emergency since last week when the army started clearing protest camps supporting former president, Mohammed Morsi.
More than 800 people have died in the last five days, with violence in Cairo and other parts of the country.
EU ambassadors are holding an emergency meeting in Brussels to discuss the crisis in Egypt.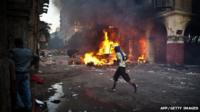 Ahmed Raafat, 22, is a student living in Cairo but hasn't been able to go to university since the protests started.
"It's too risky to go there," he said. "Lots of protests have happened near the university. Security forces are around there. There is a very tense atmosphere everywhere.
"From my house, I could see black smoke after the dispersal of the Muslim Brotherhood and lots of helicopters hovering in the sky."
A night-time curfew is in place in the capital and many other provinces in Egypt.
"It is not good living with a night-time curfew as Egyptians are used to doing a lot of things at night," he said.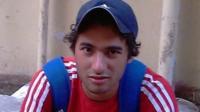 "Cairo is a city that never sleeps, it's always busy but after the curfew, the streets are empty. Shops that used to be open 24 hours close early.
"Many people are afraid to go to their jobs and open their shops. They are afraid that clashes can erupt at any time."
The Muslim Brotherhood has been protesting against Egypt's military since Mohammed Morsi was removed from power in July.
Egypt's military leader, General Abdel Fattah al-Sisi, has said he would not tolerate any violent demonstrations.
He said the army was protecting the people of Egypt and promised that he wasn't interested in staying in power.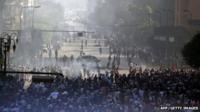 There have been reports of snipers mingling with protest groups. Ahmed has not seen any violence first hand but said some of his friends might have.
"From people I know who were at the protests, bullets came from the top of something, so it may be snipers but I haven't seen it with my own eyes," he said.
He said he was pleased when Mohammed Morsi was removed but said the the situation had not been handled well.
"They are both using violence and I don't see any difference between the Muslim Brotherhood or the military in creating a democratic state."
Follow @BBCNewsbeat on Twitter