Newsbeat's guide to... Gibraltar
19 August 2013

From the section

Politics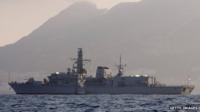 Royal Navy warship HMS Westminster has docked in Gibraltar on a scheduled visit, a day after Spanish fishermen protested about an artificial concrete reef being installed.
Gibraltar, a British territory, said the Spanish should not be fishing in its waters.
The Spanish government said the 70 concrete blocks had been laid "without the necessary authorisation".
HMS Westminster is in Gibraltar on a planned visit and is part of a number of exercises scheduled with "key allies", according to the Ministry of Defence.
The argument has reignited a historical dispute over which country has the right to govern the region.
Where is Gibraltar?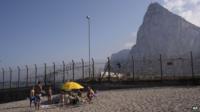 Gibraltar is at the end of a peninsular on the southern coast of Spain and at the mouth of the Mediterranean sea.
It is 20km (12 miles) from the north coast of Africa.
It is six square kilometres (2.2 sq miles) and its highest point is 430m (1,400ft).
Gibraltar, also known as The Rock, is a popular tourist destination and famous for being home to a group of Barbary macaque monkeys.
Its residents are British citizens, although they govern nearly everything independently, including taxation. The British government runs foreign police and defence.
There is a UK military base, including a port and an airstrip.
What has happened in the current row?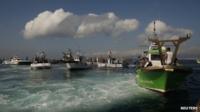 Both Spain and Gibraltar say they have the right to fish in the waters next to The Rock.
After Gibraltar placed concrete blocks in the sea, Spain started increasing checks at the border causing queues of up to six hours on 27 and 28 July.
Although David Cameron intervened, the checks started again on 10 and 11 August.
The British government said it might take legal action as the checks broke European Union rules.
Meanwhile, the Spanish foreign minister, Jose Garcia-Margallo y Marfil, said Spain may introduce a 50 euro (£43) fee to cross the border and close its airspace to flights to Gibraltar.
He also said they may launch tax investigations into property owned by Gibraltarians in neighbouring parts of Spain as well as change the laws on online gambling so companies operating in Gibraltar have to pay tax in Spain.
How long have Britain and Spain been rowing over The Rock?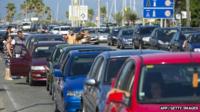 Spain lost Gibraltar to an Anglo-Dutch force in 1704 and officially handed it to London in 1713.
The country has wanted it back ever since. In the 1960s, Spain cut Gibraltar off by sealing its frontier.
They didn't reopen the border fully until 1985.
In 2006, the governments of Spain, the UK and Gibraltar signed the Cordoba Agreement, which included deals on issues like border crossings and access for flights and scheduled regular talks.
The Spanish foreign minister described the talks as "folly", suggesting that Spain was no longer happy with the agreement.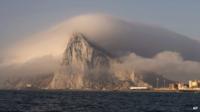 Follow @BBCNewsbeat on Twitter