Lindsay Lohan says that her troubled past is behind her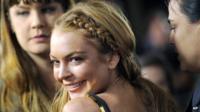 Lindsay Lohan says that her troubled past is behind her.
In an interview with chat show host Oprah Winfrey, the actress claimed her sixth stint in rehab had put her on the path to recovery.
Lohan said she was in "a different head space" now and wanted to stay "present and clear-headed and focused".
The 27-year-old said: "I have such a desire to want to keep this feeling and stay this way, and I'm willing to do whatever it takes."
Lohan completed her latest court-ordered stay in rehab in July. She has to continue therapy into late next year.
In the interview, which aired in America on 18 August, the actress acknowledged that she was addicted to alcohol.
She said the problem had in the past been "a gateway to other things", and that she had used cocaine no more than 15 times in her life.
Winfrey asked her what substances she was using these days, to which Lohan replied, "vitamins".
"I just need to shut up and listen. In this case [in rehab] I wasn't fighting at all," she said.
Lohan said she had become comfortable with chaos, feeding her party lifestyle and brushes with the law - but added she took full blame for her mistakes.
When Winfrey asked if she could turn her life around this time, Lohan said, "Yeah".
The interview aired on the Oprah Winfrey Network.
Lohan's latest film, The Canyons, made just over £20,000 in its opening weekend, making it her lowest-grossing film to date.
Follow @BBCNewsbeat on Twitter