Chris Brown cleared of California hit-and-run charges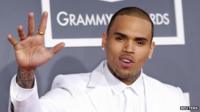 Chris Brown has been cleared of hit-and-run charges.
The star pleaded not guilty to giving false insurance information and refusing to hand over his licence after a crash in California in May.
The judge said the R&B singer and a woman whose Mercedes he hit with his Range Rover in Toluca Lake had reached an agreement over the case.
The prosecution disagreed with the decision, saying Brown showed aggression after the incident.
Chris Brown also denied leaving the scene of the crash on 21 May.
The offences carried a maximum of one year in jail.
The 27-year-old was still on probation at the time of the crash for assaulting then-girlfriend Rihanna in 2009.
That has now been reinstated and the star has been given a new sentence to perform 1,000 hours of community service.
He has been ordered to perform tasks like highway work and graffiti removal.
The singer was not present at the hearing but tweeted: "Thank God!!!" after the hit-and-run case was dismissed.
Brown's lawyer, Mark Geragos, said the agreement did not involve any money and that the woman driving the Mercedes only received $800 (£512) from her insurance company.
Geragos added: "Sometimes I get the impression that he [Brown] is prosecuted for who he is, not for what he's done."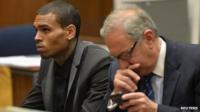 LA city lawyer Patrick Hiscocks claimed the singer should have been punished for the accident, saying the other driver felt she was treated badly on social media after the crash.
Brown called the incident "ridiculous" on Twitter and denied giving the other driver false details.
"I have a valid drivers license and I gave the woman the right info," he tweeted in May. "She saw cameras and wanted to make a scene."
The singer also accused the woman of trying to make money out of the incident.
This week Chris Brown was sued for battery and assault over a fight in a car park at an LA recording studio.
Sha'keir Duarte wants damages saying he suffered a concussion as well as humiliation and mental anguish after being attacked by a member of the singer's entourage.
It's claimed a fight at Westlake recording studios started on 27 January after Chris Brown parked in Frank Ocean's space.
Mark Geragos described that case as frivolous.
Follow @BBCNewsbeat on Twitter