UK family fear 'foul play' in Spanish hotel fall
The brother of a British man, who fell from the top floor of a hotel in Majorca, says his family suspect foul play in the death.
Tom Ousby's body was discovered at the Atlantic Park Hotel in Magaluf two weeks ago.
He'd been working on the island for the holiday season.
Police in Spain say it was "probably an accident" although they "can't rule anything out".
His older brother Lewis, 23, says they have been given practically no information by police and fear the fall is being treated as just "another drunken accident" despite reports Tom had been chased.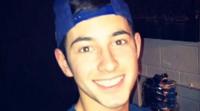 "He had no drugs in his system, was found with no phone, no shoes, no socks, no ID and that's where the suspicion has come from," he said.
Lewis is confident Tom, who was 19 and from Uxbridge, west London, did not take his own life.
The Ousby family discovered Tom had passed away when press reports appeared online two days after the former model and musician died.
'Difficult'
"We found out by word of mouth," said Lewis. "I don't know how the word got out of Spain without reaching our family first.
"It was only when my mum typed in my brother's name into Google, she saw some of the news articles that had already been published. She said, 'Oh my god it's true'."
Lewis has criticised the Foreign Office for being "very difficult" to deal with.
"We're calling them pretty much every morning and they say, 'leave it with us.' We call them back the next day and they've got no information for us whatsoever.
"As a family it's making us pull our hair out. The longer we don't know the more we're going to question it."
In a statement the Foreign Office said: "We continue to provide consular assistance and remain in regular contact with the family.
"The Spanish judicial police are investigating the death. We have advised the family to appoint a local lawyer who is best placed to gain information about the investigation."
Investigation continues
It's been reported that eyewitnesses saw Tom being chased shortly before he fell.
Antonio Montalvo, from the Civil Guard in the Balearic Islands, said: "In principle, nothing can be ruled out but it's probably an accident.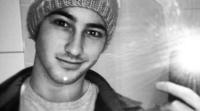 "We are still awaiting the results of the autopsy carried out by the coroner and the results of the evidence that was sent to Barcelona.
"They will take a month, more or less, to come back. By then we will know if we will continue the investigation or if we will close it for good."
A Twitter campaign called #AwarenessForTomOusby has been started and has thousands of followers.
More than £16,000 has been raised to help cover legal costs.
Follow @BBCNewsbeat on Twitter