Chris Brown sued for assault over Frank Ocean parking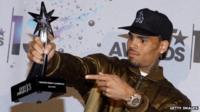 Chris Brown is being sued for battery and assault over a fight in a car park at an LA recording studio.
Sha'keir Duarte wants damages saying he suffered a concussion as well as humiliation and mental anguish after being attacked by a member of the R&B singer's entourage.
The fight at Westlake recording studios started on 27 January after Brown parked in Frank Ocean's space.
Brown's lawyer Mark Geragos called the case frivolous.
"This is what gives lawyers and lawsuits a bad name is garbage like this," said Geragos.
He said they would ask to have the lawsuit dismissed and countersue Duarte.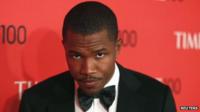 Duarte claims he was punched and kicked by a member of Brown's entourage, identified in the suit as Hood.
Brown then told Duarte the fight could turn into a shooting, the lawsuit says.
Ocean said his finger had been hurt in the fight.
At the time he said that he would not ask for charges to be brought.
Last week Chris Brown suffered a seizure caused by "intense fatigue and extreme emotional stress" according to his publicist.
The musician had a non-epileptic seizure early on Friday morning while he was working at a studio in Los Angeles.
Nicole Perna claimed it was down to "the continued onslaught of unfounded legal matters and the nonstop negativity".
Follow @BBCNewsbeat on Twitter