Young unemployed deny they are 'job snobs'
14 August 2013

From the section

Politics
Some young people are harming their chances of work by being "job snobs", careers specialists have told Newsbeat.
The latest figures show another 15,000 people aged 16 to 24 became unemployed in June, bringing the total to 973,000.
Overall there has been drop in unemployment in the UK to 1.4 million, the lowest number since February 2009.
"There is an element of snobbery which says, 'I've got these qualifications, I'm too good'," said The Recruitment Society's Norman Rose.
Mr Rose thinks people shouldn't be put off from taking a "menial job", because a strong "work ethic" looks good.
He added: "People think because they have a degree or a qualification they should not go for anything other than their line of expertise."
Twenty-three-year-old Artur Conka has been claiming Job Seekers' Allowance for three weeks after quitting a part-time marketing job.
He says the role was not relevant to his qualification in photography: "You go into a job centre and they say, 'You've got a degree, that's great. But we've got a job stacking shelves'.
"What's the point in me doing a degree if I don't end up working in the field I trained for?
In a statement, the Department of Work and Pensions said: "Taking a job in a role they hadn't considered before, even if it isn't their dream job, can increase their skills and experience and broaden their horizons."
The statement continued: "When people claim Jobseeker's Allowance they need to do everything they can to move off benefits and into work.
"Part of that is being realistic about their job goals given the skills they have and the job situation in the local area."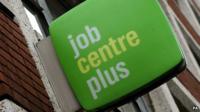 London-based photography graduate Artur does not agree.
He said: "The government shouldn't be encouraging me to stack shelves or things like that. That's a waste of talent. It's a waste of resources."
The advice from The Recruitment Society's Norman Rose is that any work, so long as you are able to enjoy it, is better than nothing.
"The longer you sit out looking for the job you really want, the less able you are to fit into the job environment," he said. "It will come no faster if you don't have a job, than if you take something as an interim, which keeps you going."
Follow @BBCNewsbeat on Twitter