Introducing... Thumpers
20 August 2013

From the section

Music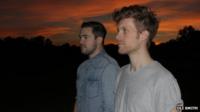 Not many bands get two attempts at making it in the music business.
Thumpers, made up of 29-year-olds Marcus Pepperell and John Hamson Jr, have done just that and are set to perform on the introducing stage at this year's Reading and Leeds festivals.
They met in secondary school in Warwickshire and say they knew straight away that they wanted to make music together.
But some might know the duo as Pull Tiger Tail, their previous band which they say had more success than they'd planned.
Drummer John Hamson Jr said: "It kind of went way further than we thought it ever would. It was a very ill-thought out experiment. We took time off after that."
The duo say they learned from the "immaturity" of Pull Tiger Tail and the break helped them realise what they wanted to achieve with music.
"It was like long distance therapy-demo-writing-sending session," explains singer and guitarist Marcus Pepperell.
Hamson Jr added: "I think we learned how to include influences in our music better."
But the drummer, who toured with Friendly Fires during their break, says their previous band wasn't the only learning process.
"Friendly Fires was an amazing 18 months of touring the world and seeing how another band can perform and what's achievable with music," he said. "I also learned bass."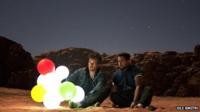 Marcus Pepperell added: "He said he could play bass and then he learned. I think that's a good lesson; blag first, learn later."
Thumpers say their name came about because of their rhythm-based sound.
But the singer say he still has trouble defining their music.
"Co-ed alt. Pop fireworks... John's making a face. Do you want a real sentence?"
Moving on
Even though they've developed a new style, Thumpers say they're concerned about new fans focussing too much on their old band.
"We're obviously worried," said John Hamson Jr. "It was such a long time ago that band, we've done so much since then."
However, the duo say they're more ambitious now and have called on their friends to help achieve what they wanted in a live setting.
"We knew we wanted it to be a collective thing," said Marcus Pepperell. "One of the bands that have always influenced us is Arcade Fire.
"They play with such intensity but they also have a collective spirit on stage, which is so mesmerising to watch.
"That's something we've always wanted to achieve as a band."
Follow @BBCNewsbeat on Twitter