Five things to know about football's finance rules
For the first season ever, football clubs in England's top four leagues all face restrictions on their spending.
The rules are known as financial fair play (FFP) and vary from division to division.
The idea is to encourage clubs to keep a tighter control on their spending.
But the reality is a set of complicated restrictions and conditions, which some say won't be effective.
Here are five things to know about FFP.
1) It's about what clubs earn, and what they spend
The basic principle is that football clubs should be aiming to break even.
They will have to prove they are not making massive losses, although Premier League restrictions are not as strict as those imposed by Uefa.
The punishments vary from fines and points deductions, to transfer bans and even exclusion from European competition.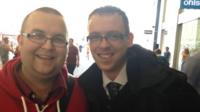 Manchester United fan Steven Smith (left) and Steven Sutch (right), who supports Manchester City, work together in the city.
Steven Sutch doesn't agree with the plans.
He said: "Clubs should be allowed to spend what they want. If you've got the money to buy the players, buy them. Bring it on."
There are restrictions too on the losses that Championship clubs can report.
2) It's already started (in a way)
Uefa has been monitoring clubs for the last two seasons, and has already banned Spanish side Malaga from European competition because of unpaid bills.
Two English clubs, thought to be Manchester City and Chelsea, would have failed Uefa's tests had they been in place sooner.
3) There are wage restrictions too
Even as a football fan, Steven Smith finds it hard to defend players' wages.
He said: "There should be a cap because it's getting ridiculous.
"You've got reserves sat on the bench at Man City earning £90,000 a week."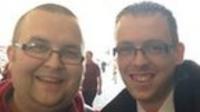 From now on Premier League clubs will only be allowed to increase their wages by £4 million per season, unless they sign bigger commercial deals.
There are already wage restrictions in Leagues 1 & 2.
4) It's not completely popular
Some smaller teams fear the restrictions will make it harder for them to compete with big clubs.
Although the rules won't stop a billionaire taking over another English club, they do make it harder for them to buy quick success.
But others say the rules aren't tough enough.
Arsenal manager Arsene Wenger says it would "make a joke" of FFP if Real Madrid spent £100m on Gareth Bale this summer.
5) The lawyers are already involved
A Belgian agent is challenging FFP in the courts, because he says it will restrict investment in clubs, reduce wages and eventually harm his income.
Follow @BBCNewsbeat on Twitter