Usher's ex-wife denied emergency custody of her sons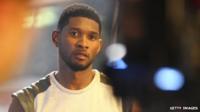 The ex-wife of R&B singer Usher has lost a court battle for emergency custody of her two sons.
It's after their eldest child, Usher Raymond V, got stuck in a swimming pool drain at the musician's home.
A judge in Atlanta dismissed the request by Tameka Foster Raymond, describing what happened as "an awful accident."
After the ruling Usher approached his wife in court and gave her a long hug.
Usher Raymond V fell to the bottom of the pool and became stuck in the drain on Monday. A workman at the house eventually managed to pull him free.
Judge John Goger said he wasn't certain anyone could have done anything to prevent the accident. But he also advised the 34-year-old to keep his ex-wife aware of his whereabouts and who's taking care of the children.
Raymond was emotional when she gave evidence in court. At one point she had to step down from the witness stand to regain her composure.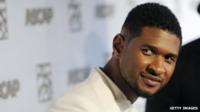 Usher, who has recorded multi-platinum R&B albums 'My Way' and '8701' left the courthouse in downtown Atlanta without speaking to reporters.
Usher and Tameka divorced in 2007 after two years of marriage and fought over custody of their sons; a battle which Usher won.
In court documents she claimed their sons, aged five and four, would prefer to live with her, rather than the "caregivers" who stay with them while Usher is travelling.
Foster's 11-year-old son, Kile Glover, died last year after he was run over by a jet ski.
Follow @BBCNewsbeat on Twitter