Premier League to use goal-line system for first time
The Premier League in England will become the first league in the world to use goal-line technology when it kicks off this weekend.
British-based company Hawk-Eye has fitted its system to all 20 stadiums in the division.
Using seven cameras per goal to detect the ball, it claims to be "millimetre accurate".
It has cost each team around £250,000 to install.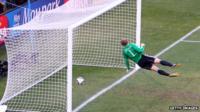 Football's world governing body Fifa dropped its long-standing opposition to goal-line technology after England had a shot disallowed at the 2010 World Cup, despite it crossing the line.
Last week the Premier League's chief executive Richard Scudamore revealed there were 31 occasions last season where the technology would have been helpful.
Three of those ended up with incorrect decisions.
Earlier this year, Newsbeat met Hawk-Eye's Laurence Upshon when the company was awarded the contract to supply the equipment.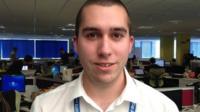 "Our technology is based on high-speed cameras, triangulating where a ball is on the field and it can be used as an officiating aid or for TV," explained the 24-year-old.
"If the ball crosses the goal line it sends a signal to the referee within a second."
Hawk-Eye, which also provides tennis and cricket with ball-tracking technology, will supply replays of goal-line decisions to broadcasters.
Footage will be shown on big screens in stadiums too.
The system was used at Wembley for last weekend's Community Shield match between Manchester United and Wigan.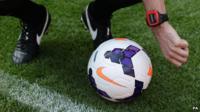 Newsbeat took Sunday league and former university goalkeeper Michael Hawkins to Everton's Goodison Park to see the system being used.
"It's great that it's instant and doesn't cause any stoppages to the game," said the 23 year-old.
"This should make everything a lot fairer.
"I can genuinely remember one where I had to claw it away and it was hard for the referee when 11 of their players were screaming at him."
Recent controversies at cricket's Ashes series have shown extra technology doesn't necessarily mean fewer rows though.
Uefa remains opposed to the technology, so Premier League teams playing Champions League matches will have to switch the system off.
Goal-line technology will however be used at next year's World Cup in Brazil.
"Whether I'm for it or not I'm not sure," added Michael.
"There is something nice about the human error aspect in football."
Follow @BBCNewsbeat on Twitter