Simon Cowell is named top earning US TV star by Forbes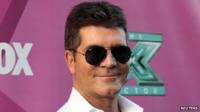 Simon Cowell has topped a list of best paid US TV personalities, earning an estimated $95 million (£61m) last year.
The US X Factor judge is responsible for some of the world's most successful television formats.
There are 41 international variants of The X Factor and his 'Got Talent' is the biggest-selling TV franchise in the world, according to Forbes.
Cowell also derives income from his career in the music industry, including representing One Direction.
His earnings are matched by America's Got Talent judge and radio DJ, Howard Stern.
According to Forbes the "shock jock" gets approximately $15m (£9.6m) for appearing on the TV talent show.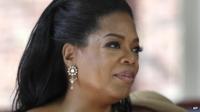 Oprah Winfrey is fourth on the list. The chat show host made an estimated $77m (£50m) last year, making her the highest earning woman and the only African-American to reach the top 10.
Presiding over The Apprentice in the US, Donald Trump comes in at seven with $63m (£41m).
To compile its list Forbes estimated the entertainment-related income of celebrities between June 2012 and June 2013 by talking to agents, managers, producers and executives.
Television presenter Ryan Seacrest - who hosts American Idol - earned an estimated $61m (£39m) in the period between June 2012 and June 2013 putting him at number eight.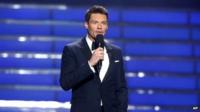 Ellen DeGeneres is one of three women appearing on Forbes' list.
In addition to her talk show, she has also signed up to the sequel of Finding Nemo, which will focus more on her character, a regal tang, and be called Finding Dory.
The comedian, who will host next year's Oscars, is extremely popular on social media, with 1.7 billion views of her YouTube channel and 18m Twitter followers.
Follow @BBCNewsbeat on Twitter