Fabrice Muamba warns new players on life after football
It's a year since Fabrice Muamba's football dreams ended.
The Bolton midfielder retired in August 2012, five months after collapsing on the pitch following a cardiac arrest.
The 25-year-old is now working with the Professional Footballers' Association (PFA) to warn young players they need to think about life after football.
Fabrice admits he's had "a kickabout in the garden" with his son, but has ruled out a return to competitive action.
"It would have been incredible to come back, but it wasn't meant to be. My health is the most important thing," he said.
'Plan b'
The circumstances of his own retirement may have been unusual, but Muamba is one of hundreds of players leaving the game each year.
League Football Education (LFE) says about 45% of Football League apprentices get a professional contract.
Many more will drop out of the game over the following years.
Fabrice Muamba has been visiting clubs to encourage 16 to 18-year-old players to consider their education now.
"Out of 10 or 15 of them, probably only one or two will be in the first team, so it's important they have a plan," he said.
Oshor Williams is assistant director of education at the PFA.
He says clubs have suffered along with the rest of the economy, making it tougher for players wanting another job within football, or looking for a new career.
He adds that because children are now taken on by clubs when they're as young as nine, it can be harder for them to adjust to the real world.
"When a player leaves the game at the age of 18, they may have been in elite development for half their lives," he said.
"There's a loss of identity, even a loss of self-esteem. It's a question of redefining themselves as the person they are, rather than the profession they had."
Josh Alderson was released by Barnsley this summer at the end of his two-year apprenticeship.
"They didn't think I'd be a Championship right-back within the next two to three seasons," he said.
"I was too disappointed to argue. I was absolutely gutted when I found out."
He's now heading to the US to start a soccer scholarship.
Josh believes he can still make it as a pro, but says the American system provides a better balance between sport and education.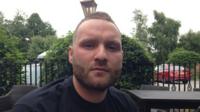 Ben Bradford made it onto the bench for Rotherham United in 2005, but not onto the pitch.
The 26-year-old quit the game and retrained as a plumber and gas engineer with help from the PFA.
He thinks all young players should be made to learn a trade, in case things don't work out.
"I know people who've been released and are told, 'Don't give up'. That's the wrong advice."
Follow @BBCNewsbeat on Twitter