Mark Wahlberg confirms there will be an Entourage film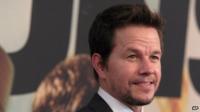 Mark Wahlberg has confirmed there will be an Entourage film.
Talking to Scott Mills on the Radio 1 Breakfast show, the 42-year-old said: "We've just been putting the deals together.
"Hopefully everyone's schedule will come together in October."
Wahlberg is a producer of the series about a young actor and his friends from New York as they look for success in Hollywood.
When asked if the film was "a thing" the actor replied that a few details of when production would start are still being finalised.
He said: "If we started shooting in October it will probably be out in the summer time, next summer."
Jeremy Piven who plays agent Ari Gold in the programme is currently filming the second series of Mr. Selfridge in the UK.
'Real Stuff'
Entourage premiered on American network HBO in July 2004 and finished in September 2011 after eight seasons.
The series is loosely based on Wahlberg's experience as an up and coming actor in LA.
He said: "There is a lot of real stuff in there whether it's stuff that happened with me or other guys in the business."
But then added: "The writer's certainly had creative liberty."
Mark Wahlberg's latest film, 2 Guns, about two agents who go on the run after they fail to infiltrate a drug cartel, is released 16 August.
Follow @BBCNewsbeat on Twitter.