Mobile networks criticised for 4G data limits
Consumer groups have criticised mobile phone networks for their plans to offer no unlimited 4G data plans.
Vodafone, O2 and 3 are all set to compete with EE, which is already offering 4G, by the end of 2013.
Only one network, 3, has said it will allow customers to use as much data as they like over 4G.
Unlimited data contracts are increasingly rare and networks insist their plans reflect the amount of data that most customers use.
4G provides a faster data connection allowing users to watch video, download files and stream music more easily.
Customers should have the choice to use as much data as they need, said John Phelan from BEUC, the organisation representing European consumer groups.
"Unlimited certainly should be an option for consumers," said Mr Phenlan.
"We've seen it in the past, we've also seen it done well."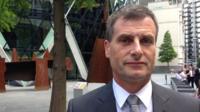 Ruth Schofield, 22, from Leeds, told Newsbeat she had found herself using more data after switching to an EE contract offering 4G.
"I used to be on 1GB of data on my old contact and I wasn't using it, whereas on 4G I am using up to 1GB," she said.
She said the service was "great" but found her data limitation frustrating. "I do think that unlimited would be better on 4G."
An EE spokesperson said: "We offer a wide range of packages with a choice of data - up to 50GB of data a month.
"The key point is customers choose the data package according to their needs."
O2 has announced that its 4G mobile network is set to launch on 29 August, initially available in London, Leeds and Bradford.
The company's UK chief executive, Ronan Dunne, told Newsbeat that offering unlimited data could compromise service.
"If we were to offer unlimited I couldn't guarantee that all our customers get the same great experience right across the country," he said.
"Somebody else, by using the network unlimited, might interfere with your experience."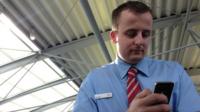 Three has suggested that 4G users should not expect a super-fast connection immediately.
"The truth is that you'll be using a mixture of 3G and 4G for many years to come," said Guy Middleton, head of corporate communications for 3.
He rejected suggestions from other companies that offering unlimited data would put a strain on the network.
"When we add 4G we're effectively adding more capacity to serve more customers... and we're confident we can continue to do this."
Vodafone declined to comment on the detail of its 4G plans.
A recent Ofcom survey suggested a limited appeal of 4G among mobile phone users in the UK.
Lee Davies, 25, said he struggles to get a 3G signal where he lives in Ellesmere Port.
"I think they should focus on getting 3G right at the moment, if they want to take it further, they should try to get the basics right."
Follow @BBCNewsbeat on Twitter