Usher's son rescued from drowning in US swimming pool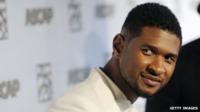 The son of R&B singer Usher nearly drowned in a swimming pool, after becoming stuck in a drain.
Atlanta police police spokesman Carlos Campos said five-year-old Usher Raymond V fell to the bottom of the pool in Atlanta on Monday.
A housekeeper was unable to free the child and he was eventually pulled from the water by two audio-visual subcontractors working at the house.
The boy was "conscious, alert and breathing" when paramedics arrived.
Campos said one of the contractors had given the boy CPR after rescuing him.
He is currently being treated a children's hospital in Atlanta.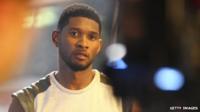 Usher Raymond V is one of two sons from Usher's marriage to Tameka Foster, which ended in divorce two years after they married in 2007.
Last year the Grammy-winning singer was awarded custody of both children after a long legal fight with his ex-wife.
Foster's 11-year-old son, Kile Glover, died last year after he was run over by a jet ski.
At the time Usher appeared on Oprah Winfrey's chat show in the US to talk about the death of his stepson.
Follow @BBCNewsbeat on Twitter