Mary Lynn Rajskub returns to new 24: Live Another Day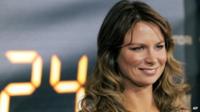 Mary Lynn Rajskub is reuniting with Kiefer Sutherland for more episodes of US TV series 24.
Fox Network have confirmed the actress will return to her role as Chloe O'Brien, the sidekick of main character Jack Bauer, played by Kiefer Sutherland.
The 12 episode series called 24: Live Another Day will be aired in May 2014.
Mary Lynn Rajskub joined the 24 cast in season two and was a regular character in the show's ten year run.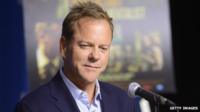 The new storyline will continue to follow agent Bauer and covers events several years after the eighth season.
The Emmy award winning series began in 2001 spanning 192 episodes, with the final episode broadcast on 24 May 2010.
In addition, a television film 24: Redemption was broadcast between seasons six and seven.
Last year, Kiefer Sutherland told Radio 1 he was in the "process of talking with directors" about a movie of the show, but it's thought that project has been put on hold.
Follow @BBCNewsbeat on Twitter