Wiley: I'm not giving Cockermouth festival money back
31 July 2013

From the section

Music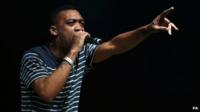 Wiley says he won't return the fee the Cockermouth rock festival paid him after claiming things were thrown at him during his performance.
Organiser Marie Whitehead confirmed that they would be taking legal action claiming the rapper had "breached his contract" by not completing his set.
"They say it's a charity event and they want their money back," he said.
"I've just stood on stage and been coined and bottled. Obviously I'm not giving the money back."
Before the event began, Wiley posted a series of tweets complaining about having to travel to Cumbria but says they were directed at his agent.
"When I went on I knew some people were going to be unhappy. The escalation on Twitter is uncontrollable."
He added: "The woman who was looking after us said if it gets too much, come off.
"After 15 minutes I looked at the floor and it was covered in coins. Any one of those coins could have taken my eye out."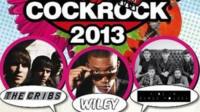 Whitehead has said that the festival's solicitors are looking at "all angles of the damage" the rapper may have caused after quitting his set early.
Following the event Wiley tweeted that he had earned £15,000 for quarter of an hour's work.
On Twitter, he used the word "pagans" to describe people in Cumbria, which he says means "idiot".
"Pagan's just a word but they don't know that yet," he said. "It's a London thing. I don't want them to think I hate Cumbria."
He says if he could turn back time, he would not have used Twitter to complain to his agent about travel plans to the festival.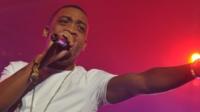 "Now I know once you're an artist, you're in the public eye, basically you're a slave," he said.
"You have to do what they say and the second you don't, they're upset."
Talking about his plans for later in the year, he says he will release more singles as well as help promote fellow artists.
"The kid who knows what Heatwave is might not know who Kano is but I want him to," he said. "I feel I exist because of them, they exist because of me."
Follow @BBCNewsbeat on Twitter