Nile Rodgers given the all-clear from prostate cancer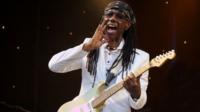 Daft Punk collaborator and Chic guitarist Nile Rodgers has been given the all-clear after battling prostate cancer.
The musician, who worked with Daft Punk on their number one single Get Lucky, was diagnosed in 2010.
The 60-year-old broke the news via his Twitter account on Monday evening.
He tweeted: "Instead of showing gross internal video I'll show my doctor's fly examination room. I'M ALL CLEAR AGAIN."
In an interview with The Official Charts Company in May, Nile explained that the success of Get Lucky helped him overcome the disease.
"I was facing life and death issues and then to get something so rewarding as a number one record is pretty amazing," he said.
"I think this particular experience rates very high, because two years ago I was stricken with cancer just right out of the clear blue sky.
"And from that moment I decided I was going to work as much as I could, play as many concerts, do as many records, because that's what I live for."
Nile Rodgers performed at Glastonbury Festival last month with Chic, the band he worked with throughout the 1970s.
In the interview he also revealed that he had been working with David Guetta and Avicii.
Follow @BBCNewsbeat on Twitter