Justin Bieber: Drugs found on star's tour bus in the US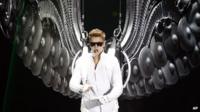 US border agents have found marijuana on a bus travelling as part of singer Justin Bieber's tour.
It was stopped as it travelled into Detroit, Michigan, from Windsor in Canada. According to the Detroit Free Press, Justin Bieber was not on board.
Ken Hammond, spokesman for US Customs and Border Protection, confirmed a police dog indicated the presence of drugs on the bus.
A search resulted in drug equipment and marijuana being found.
Hammond says the bus driver was cited and that the bus and its passengers were then allowed to go.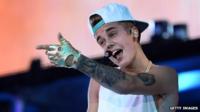 Later that night Justin Bieber went ahead with his performance at Detroit's Joe Louis Arena.
The 19-year-old recently signed up for a space flight with Virgin Galactic.
The company, owned by entrepreneur Richard Branson, expects to start running journeys into space from 2014.
The Canadian singer will be joined on the trip by his manager, Scooter Braun.
In June Bieber became the first person to have more than 40 million followers on the social networking site Twitter.
Follow @BBCNewsbeat on Twitter