Angelina Jolie named Hollywood's highest-paid actress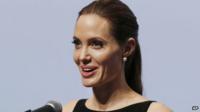 Angelina Jolie is the highest-paid actress in Hollywood with estimated earnings of $33 million (£19.5m), according to Forbes.
The movie star, whose next film is called Maleficent - a Disney retelling of Sleeping Beauty - rose from third place on 2012's list.
Jennifer Lawrence, who picked up the best actress Oscar earlier this year for Silver Linings Playbook, is second.
Her role in Hunger Games has helped her reach earnings of $26m (£16.9m).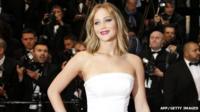 Completing the top three is star of the Twilight franchise, Kristen Stewart, who has taken home an estimated $22m (£14.3m) this year.
To make the list Forbes estimated the entertainment-related income of celebrities between June 2012 and June 2013 by talking to agents, managers, producers and executives.
According to the Forbes website, Lawrence was paid under $1 million (£652,000) for the first Hunger Games movie but Lionsgate paid her more for the second instalment, Catching Fire.
Jolie, who is engaged to fellow film star Brad Pitt, has six children.
She recently confirmed that she had had a double mastectomy after finding out she had a high genetic risk of developing breast cancer.
Jennifer Aniston, whose newest movie We're the Millers will be released in the US next week, is in fourth with earnings of $20m (£13m).
Emma Stone, who appeared in The Amazing Spider-Man with real-life boyfriend Andrew Garfield earned $16m (£10.4m), putting her at number five.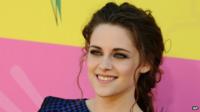 Sandra Bullock, who was third in last year's list, dropped to seventh with estimated earnings of $14m (£9.1m) while Julia Roberts also slipped from sixth to ninth place this year.
Newcomer to the list, Mila Kunis, matched Roberts' earnings of $11m (£7.1m).
Two films she starred in, Ted and Oz: The Great and Powerful, earned a combined $1 billion (£652m) at the global box office.
Follow @BBCNewsbeat on Twitter