Tulisa Contostavlos bail hearing moved to October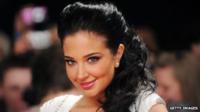 Tulisa Contostavlos will now answer police bail in October after her arrest earlier this year over claims she was part of a drug deal.
The singer and former X Factor judge was held on 4 June after going to a police station by appointment.
She was arrested on suspicion of being involved in supplying class A drugs.
The Sun on Sunday newspaper said Tulisa, 25, introduced a journalist to a drug dealer, with half an ounce of cocaine changing hands.
Musician Mike GLC, 35, was also arrested and will answer bail in late October as well.
He spoke to reporters outside Belgravia Police station in central London at the time of his arrest.
"We are innocent," he said, adding that any evidence caught on camera had been "taken out of context" and that the duo had been "set up".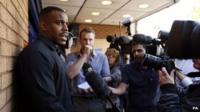 "Anyone can edit or chop things together on video," he said.
"The truth will come out in the end. I don't want to go into much more detail.
"I am going home to be with my family. This is ruining my life. I am not a drug dealer. I have never sold drugs in my life."
Tulisa Contostavlos was dropped as a judge on The X Factor days before she was arrested.
However, the programme said the two stories were unconnected.
She was replaced on the panel by Sharon Osbourne.
Tulisa has announced details of her first novel, due out in September.
The book, called Sky, will be about a young girl from south London and her path to stardom.
Follow @BBCNewsbeat on Twitter