Glee cast holds private memorial for Cory Monteith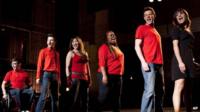 The cast and crew of Glee have held a private memorial for Cory Monteith, who died earlier this month from a heroin and alcohol overdose.
His co-star and girlfriend Lea Michele and Ryan Murphy, co-creator of the show, were both at Thursday's ceremony.
A Fox Television statement said the colleagues gathered "to share memories and music in an emotional celebration of the life of Cory Monteith".
The actor was found dead in a hotel room in Vancouver on 13 July.
Authorities in Canada say he died from a "mixed-drug toxicity involving heroin and alcohol". They believe his overdose was unintentional.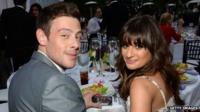 Last week, Fox Television said it would delay the fifth season premiere of Glee by a week following Monteith's death.
The new season will now begin on 26 September.
The first two episodes of the next series, a planned Beatles tribute which has already been written, will be filmed next month ahead of the tribute.
Ryan Murphy has said he is planning to make the third episode a special tribute to Monteith, after which the show will take a break while its future is considered.
Producers have not said how they will handle the actor's death in the show's storylines but they will not recast the role.
Murphy said the decision to return to work was made by Monteith's girlfriend and fellow cast member, Lea Michele.
"If Lea had said to me, 'I could never do this again and I don't want to do this again,' - you know, she is sort of the show.
"I would've, out of respect to her as a person, said, 'OK'."
Follow @BBCNewsbeat on Twitter