Greek ambassador says most tourists stay safe in Malia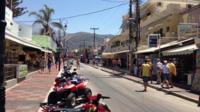 The UK's ambassador to Greece says his messages about staying safe on holiday are getting through to young tourists.
John Kittmer spoke following the murder of 19-year-old Tyrell Matthews-Burton.
Myles Litchmore-Dunbar, 19, has been charged with killing the Londoner, who died on Tuesday after being stabbed twice in the street in Malia.
"This is a country like any other with rules and standards of behaviour and most people who come out here know that and respect that," he said.
"I think the message is getting through. I think the small number of incidents that we do actually have is a sign that most young people who come out to Greece want to have a good time."
This year the Foreign Office relaunched its Holiday Hangover campaign, urging tourists to behave and be aware.
Leaflets, beer mats and bracelets have been handed to tour operators to give to their customers.
They include the emergency number in Greece, 112.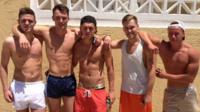 Nick Hesketh, 19, is on holiday with his friends from Bradford.
"There's always trouble in places like this and you need to just stay aware," he said. "If it looks like it's going to start then stay together."
However, one of their friends had to leave Malia early after breaking his arm as he tried to climb over a gate with a pizza.
"He was in hospital for four days," said 19-year-old Adam Simpson.
"He had two operations, then he came out and couldn't drink so he decided to go home. He knew it was his own fault."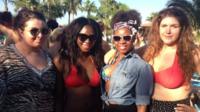 Also staying on the main strip in Malia are a group of 18-year-olds who are away on holiday without their parents for the first time.
"We saw The Inbetweeners movie and thought we had to come to Malia," says Philomena Yawson from London.
They arrived on the day of the stabbing.
One of the group, Alex White, says they always have a plan to look out for each other.
"We're always in a group so it's either two and two or all of us together," she said. "We're never by ourselves."
Nearly two million British tourists visit Greece each year.
Around half of all cases which the UK consulate has to help with in Greece involve young tourists on holiday in Malia, Laganas, Kavos, Kardamena and Faliraki.
Follow @BBCNewsbeat on Twitter