Malia stabbing: People 'upset' after tourist's death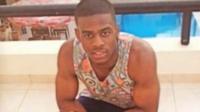 Tourists in Malia say they are "upset" after the death of Tyrell Matthews-Burton, who was stabbed to death in a bar in Crete on his birthday.
The 19-year-old from London was attacked during a bar fight in Malia which involved up to 30 British tourists early on Tuesday morning.
Police have confirmed that they've charged another 19-year-old from the UK, Myles Litchmore Dunbar, with his killing.
There are 17 other British people facing fighting offences. They're all due in a court on the island on 26 July.
Malia has become an increasingly popular holiday destination for young British people.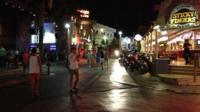 If you hadn't been told there was a murder on Beach Road in Malia this week, you'd get no sense of what happened from the atmosphere on the strip.
The bars and clubs are open as usual, still trying to get young British tourists in with cheap shots and drinks deals.
Up a cobbled street, at the spot where Tyrell Matthews-Burton was stabbed, there are no longer any floral tributes and no sign of the blood which drenched the pavement.
Eighteen-year-old Tom Waldron from Birmingham was out that night.
"My mates are pretty shook up by it," he said. "They can't believe we're still going out when someone's been stabbed."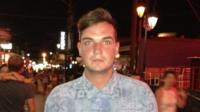 Brayden Shields (above) works outside one bar on the strip.
The 21-year-old from Oxford saw the aftermath of the mass brawl.
"After it happened, about 45 minutes later, there was still a group of lads being questioned by police - about five or six of them on a quad," he said.
"There was a pool of blood on the floor and it was mostly cornered off."
He says it has affected many people in Malia.
"Everyone's just so upset," he said.
"No-one wants to come out on holiday with a group of lads and then you've got to go home one lad short."
Malia is one of the most popular destinations in Greece for young Brits and was featured in the film version of The Inbetweeners.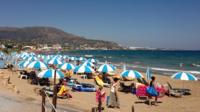 Hundreds of thousands of tourists travel there every year and a campaign was recently launched to promote responsible and safe behaviour.
Brayden Shields thinks the town shouldn't be tainted by the killing.
"It [the stabbbing] doesn't sum up Malia at all," he said. "It's the worst thing. Everyone's out here for a good time.
"Nine times out of 10, you don't see any violence at all and then it just happens that this once."
Follow @BBCNewsbeat on Twitter