Foals say it is an honour to headline Latitude Festival
22 July 2013

From the section

Music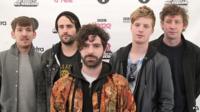 Foals closed Latitude Festival last night (21 July) with their first UK headline set.
"It definitely feels like the culmination of a pretty good year," frontman Yannis Phillipakis told Newsbeat.
"It feels right, we don't feel particularly nervous, we just want to relish it."
The Oxford band closed the festival on Sunday, Bloc Party headlined on Friday and Kraftwerk played on Saturday.
Foals said they were initially "tentative" about accepting their first major headline slot.
"There was some internal discussion about whether we should or could or were ready to do it," said Yannis.
They were offered the gig before they started touring their latest album, Holy Fire.
But guitarist Jimmy Smith says after getting on the road they now feel confident.
"We are playing better than we ever have before, we feel like the shows are the best they've ever been."
"It's just going to be really exciting, it's an honour as well," added frontman Yannis.
"It does feel like the whole year has been pretty crazy, it doesn't feel like we shouldn't be doing it."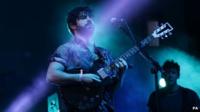 Foals are one of only a handful of newer bands headlining festivals this summer, with The Rolling Stones taking the main slot at Glastonbury, for example.
"I think it's good to have contemporary bands headline festivals and it not just necessarily being heritage acts," said Yannis.
"I guess it's just easier, some of it is economics, if you are a promoter and there is declining festival ticket sales you're going to take safe bets," he explained.
"Safe bets often have an established legacy and fan base, there is also nostalgia attached to it."
Jimmy thinks festival organisers might have to look towards the younger generation of bands.
"They are running out of heritage acts, I think they are going to have to take a bit of a gamble with some younger bands, I think it will pay off in the end."
Foals are in the middle of a hectic touring schedule which will see them head to America and Japan over the next month.
Follow @BBCNewsbeat on Twitter