Austin Mahone says he's 'different' to Justin Bieber
18 July 2013

From the section

Music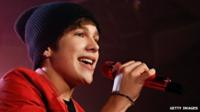 A teenage musician dubbed the new Justin Bieber by some critics says people should not be too quick to make the comparison.
Austin Mahone has found fame through his viral video performances, Twitter and his thousands of female fans.
But the 17-year-old from Texas says he's flattered by comparisons to the Canadian pop star.
"It's cool, he's so successful but I just want people to give me a chance to show I'm different," he says.
"I think it all just comes down to me being myself. I'm my own person."
Austin Mahone thinks his music is "a little different" from Justin Bieber's, with more of a focus on pop influences.
"It's kind of like old school mixed with new school, so it's pretty cool," he says.
He has released a number of singles in the US since signing to Universal in August 2012 and already has more than three million fans on Twitter.
He's been on tour with Taylor Swift and Bridgit Mendler this year and is up for an MTV Video Music Award in the Artist to Watch category.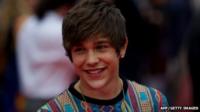 "I have a large following over there and I've been doing a lot of travelling. I've been on tour with Taylor Swift so I've been all over.
"She's amazing, so nice. Ed Sheeran's on there as well, he's just so chilled and relaxed. I had a great time."
Austin Mahone says he has met Justin Bieber and that the star gave him some advice.
"He told me no matter how big and famous I get, [don't] stop working hard," he says. "I just got to keep working hard now, no matter what.
"Nobody can really know what he's going through but I'm sure all the success and everything can get a bit stressful sometimes.
"I think that it's important to have good people around you, like my friends."
The teenager spends hours talking to his fans, also known as Mahomies, online and through video messaging.
"Twitter is the biggest thing right now, like everybody has a Twitter," he says.
"I think it's important to update my fans on what I'm doing and where I'm going next and when my next single is going to drop and my album.
"I think Twitter is everything."
Austin Mahone's debut album, Junior Year, is out later this year.
Follow @BBCNewsbeat on Twitter