Robert Downey Jr named Forbes highest-paid actor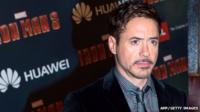 Robert Downey Jr, star of The Avengers and Iron Man 3, has topped Forbes' list of highest-paid actors, with estimated earnings of $75 million (£50m).
Both Marvel superhero films featuring the 48-year-old took more than $1 billion at the box office.
In second place is new father, Channing Tatum, who financed and starred in Magic Mike, about male strippers.
Directed by Steven Soderbergh, it made $167 million (£110m), contributing to the actor's $60 million (£40m) pay.
Completing the top three is Australian actor Hugh Jackman, whose new film The Wolverine is about to open in the UK.
He is thought to have earned $55 million (£36.5m) in the same period - June 2012 to June 2013.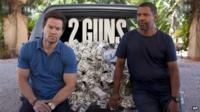 Other stars in the top 10 include Mark Wahlberg, star of comedy film Ted, who earned $52 million (£34.5m) and Adam Sandler with $37 million (£24.5m).
Denzel Washington, who is in ninth place, earned approximately $33 million (£21.8).
He took a cut in pay for the film Flight in exchange for a share of the profits. The film ended up making $162 million (£107m).
Last year, 51-year-old Tom Cruise topped the list with earnings of $75 million (£49.5m).
This year he dropped to eighth place with $35 million (£23.1), gained largely from his international audience, Forbes said.
Leonardo DiCaprio and Liam Neeson complete the top 10 with earnings of $39 million (£25.8) and $32 million (£21.1) respectively.
Follow @BBCNewsbeat on Twitter