Chase and Status: No complaints over festival DJ sets
16 July 2013

From the section

Music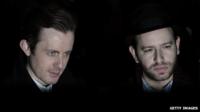 Chase & Status say they haven't had any complaints over performing more DJ sets than live performances this summer.
"I can't answer for every single fan," said Will Kennard at Exit in Serbia.
"We love doing live shows when we can. It's not really up to us, it's dependent on the promoters and agents.
"This year didn't really work out with the live shows but we've done a lot of DJ gigs and we don't get many complaints so hopefully it's all right."
He was joined on stage by MC Rage, also known as Patrick Williams.
The pair also performed a DJ set at Ultra festival in Croatia and appeared with the rest of Chase & Status at T in the Park over the weekend.
The band have already played live sets at Glastonbury and Radio 1's Big Weekend this year.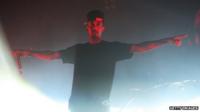 "It's important to spread the music, different vibes, different energy, to meet the people who love the music," said Williams of their numerous international performances.
The pair say they have noticed a lot of British people at their European sets.
"It makes a nice change," says Kennard. "These Eastern European countries, they're cheaper. It's a great little package holiday.
"Come for the sun," adds Patrick. "If you can go to France or Belgium and have sun for four days, I'll jump on the [train] and come with you."
Williams also revealed the band were "going in for the kill" with their next album, due out in September and set to include a number of collaborations.
"The album's nearly finished. We've got another single lined up ready to go [and] lots of cool features," says Status, otherwise known as Will.
Their latest single, Lost & Not Found, was released on 26 June.
Follow @BBCNewsbeat on Twitter