Chris Brown's could face time in jail after hit-and-run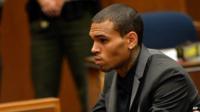 A US judge has revoked Chris Brown's probation after looking at details of a hit-and-run accident although he has not been ordered to go to jail yet.
The singer is accused of crashing into another car in California, refusing to share his insurance information and driving without a valid licence.
The driver of the other car also says the musician "went ballistic" at her after the crash in May.
Chris Brown has been on probation since attacking his ex-girlfriend, Rihanna.
He has not entered a plea in the hit-and-run case.
If he is found guilty of breaking the law he may have to spend time in prison for disobeying the terms of his assault probation.
His lawyer, Mark Geragos, suggested that the matter may be resolved informally without a major probation hearing.
Deputy District Attorney Mary Murray did not ask for the singer to be jailed and the judge allowed him to remain free.
In an accident on 12 May, Brown is suspected of rearing a car stopped at a red light.
The woman in the other car, identified in court documents only as Olga G, said she called her husband and was told to exchange driver's licences and insurance identification.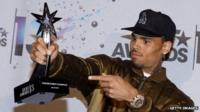 She said Brown was polite at first but as she continued to ask for identification he started confronting her.
The female driver said Brown's companion, thought to be Karrueche Tientrese Tran, offered her driver's licence and said the car belonged to her.
In her written statement, the woman said when Brown refused to provide his identification, she took a picture of the couple "and then they went ballistic".
She said Brown began swearing and grabbed for her camera.
"I jumped back, the girl screamed, 'Don't touch her. Don't touch her,'" she said in the statement.
"I was so shocked that I was speechless.
"Just a moment ago he was a nice guy. After screaming some insulting nonsense for a while longer, he slammed a door and drove away fast and noisy."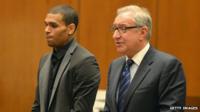 The woman didn't know the identity of the man until a friend told her after seeing online reports.
After being charged Chris Brown tweeted: "It's not a hit and run if u get out the car, exchange information (who has NO DAMAGE to either cars). This is really ridiculous.
"I have a valid drivers license and I gave the woman the right info. She saw cameras and wanted to make a scene."
Follow @BBCNewsbeat on Twitter