Sharon Osbourne: I am still relevant to The X Factor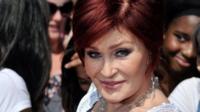 Sharon Osbourne says she is "obviously still relevant" after online criticism that she had already been on The X Factor.
The 60-year-old said the band she manages, Black Sabbath, have just had a number one album in 14 countries.
It was announced in May that she would return as a judge on The X Factor after last being on the show in 2007.
She also said she took the comments as "a compliment" that she knew what she was doing.
When asked how much persuasion Simon Cowell gave her to return to the show, Sharon Osbourne said: "He didn't have to do that much persuading actually, if I'm truthful.
"The thing that's so great is, it's still the same crew, so it's like coming back to your family and it just feels just right. It feels really good."
New host of The Xtra Factor, Matt Richardson, defended Sharon Osbourne saying she had "been in music management for 35 years, managing one of the biggest bands in the world".
He added: "She's pretty relevant, they [Black Sabbath] sell out arenas and stadiums under her management.
"So I guess you can't really complain about that can you? Having someone like that on the panel is pretty brilliant."
His co-host Caroline Flack said Sharon Osbourne's experience was the most important thing.
"She's seen the industry change and seen what it is now," she said. "So actually she's a lot more experienced than a lot of people."
The X Factor is due to start on ITV at the end of August.
Follow @BBCNewsbeat on Twitter