Example recorded Dizzee track before Robbie Williams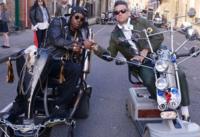 Dizzee Rascal says Example originally recorded Robbie Williams part on their track Goin Crazy.
He told BBC Radio 1xtra DJ Mistajam the former Take That member was second choice.
"Let me let you in on something I haven't told no one anyway, I actually gave that to Example first," he said.
"He did it and then he didn't think it was right, so respect due to him, he said nah it's not right let's leave it."
The track was released on 16 June and charted at number 5 on the Official Charts.
The video, which features scenes of the pair riding scooters.
Goin Crazy is the first track to be released from his fifth album, called The Fifth, due for release later on this year.
It's not unusual for a track to be recorded and then a new vocalist to come in, as Dizzee told Mistajam.
"There's a track that Example did with Calvin Harris, I had that before Example, same thing, it didn't sound right with me on that," he explained.
"That's just the way things go you know what I mean."
Follow @BBCNewsbeat on Twitter