BBFC developing traffic light system for online video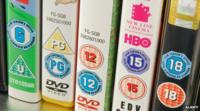 The British Board of Film Classification (BBFC) is developing a system which will allow the public to rate some online video content.
It's working with Dutch media regulator Nicam to rate "user-generated content" which would normally be unclassified.
BBFC director David Cooke said the number of online-only classifications had risen by 40% in the last year.
It is now working on a traffic light system to warn online users about the footage they are about to access.
The BBFC says much of it is home-made, has a short shelf life and would not ordinarily come under the organisation's remit.
The system would involve viewers, and the person uploading the material, giving details about its content and could be tailored for different countries.
Voluntary
It has already been prototyped, with Italian commercial broadcaster Mediaset agreeing to trial it.
Mr Cooke said there had been a "shift" in terms of the increasing acceptance by politicians that online classification was a good idea.
Although the BBFC has no specific powers to rate online material, a number of companies have asked them to classify material voluntarily.
They include video-on-demand service Neflix, which asked for a certificate for online-only series like House Of Cards.
An age rating system for video games came into force last year.
It is designed to stop some games being sold to under-12s and give the industry more simple rules for rating games according to age.
The government has also been looking into whether music DVDs should have movie-style age ratings.
There are also proposals for online music videos to have warnings if they contain explicit content.
Follow @BBCNewsbeat on Twitter