Kevin Jonas and wife Danielle are expecting first child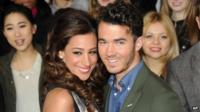 Kevin and Danielle Jonas have announced that they're expecting their first child together early next year.
In an interview with E! News the eldest Jonas brother said: "It's been the most exciting thing in my life so far. I'm ready to do this with Dani."
Danielle added: "It's been a rough couple of weeks, but it's getting better."
The couple met six years ago and have been married since 2009.
They said they don't know the gender of the baby yet, but they're are planning to find out as soon as they can.
"I want to find out, because I want to go shopping," said Danielle.
When asked if they've thought about names yet Danielle said: "Definitely not classic, but nothing too crazy.
"Hopefully [the name] has a little Italian in it," she added.
Brotherly love
The Jonas Brothers also includes Kevin's younger brothers Nick and Joe.
Kevin said how his brothers reacted to the news.
He said: "They're really excited.
"They shot their arms up in the air [when they heard]."
But Kevin is already a little bit nervous about letting one of his brothers babysit.
"I don't know if I can trust Joe with the baby," he joked.
The band are set to release a new album later this year.
Follow @BBCNewsbeat on Twitter