Lions fans say they were 'lucky' to be there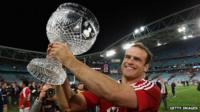 On Saturday the British and Irish Lions sealed a series win by beating Australia 41-16 in Sydney.
Since then 40,000 British and Irish fans have been partying in central Sydney celebrating a series win.
It will be four years until they regroup again, with a different set of players.
Newsbeat have spoken to young travelling Lions fans who hope the supporters won't change.
Tom and Alex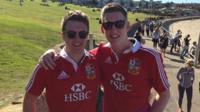 Tom Birch and Alex Todd are sixth form students from Surrey who've travelled out with their dads to watch the series.
"Words can't explain how lucky we are, our dads were saying they've waited 16 years for this and now we're here to watch it," Tom said.
"We outshone the Aussies, the atmosphere was incredible we were just chanting 'Lions, Lions, Lions'.
"We'd heard about the spirit of the Lions but to experience it at such a young age is amazing."
Choosing his favourite player of the tour was easy for Tom: "Leigh Halfpenny. He hardly missed a kick."
The Welsh fly half will hope to be in New Zealand for the Lions' 2017 tour. The fans are keen to be there, too but it will come at price.
Tom said: "It's been a long trip and an expensive one. With flights starting at around £1,000 to get out here. The hospitality tickets were £300 each with the tour company per test match - then there is the spend. Australia is one of the world's most expensive countries to live, but at least the sunshine is free!
"It's all worth it," added Alex. "I'm not taking off my sunglasses today though."
Despite the Lions' win, the boys say it wasn't always easy to watch.
Talking about Saturday's game, Alex said: "After half time they'd scored a try and were taking kicks and it was back at 19-16.
"But we did it and now we can relax, the fans were singing cheerio to to Aussies as they left the stadium."
Follow @BBCNewsbeat on Twitter