Mental health sufferer: Anxiety starts impeding your life
5 July 2013

From the section

Health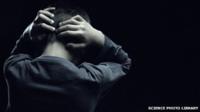 Mental health lessons should be taught in all secondary schools in the UK, a new charity has claimed.
MindFull says not enough pupils with symptoms of depression or anxiety are given the right amount of support.
They would also like to see further training for teachers and school staff.
Founder Emma-Jane Cross describes the scale of the problem as "epic" with thousands "teetering on the brink" of serious mental illness.
Case study: Rosie from Surrey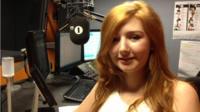 Rosie, 18, suffers from depression and anxiety issues.
She says problems started two years ago when she looked through prom photos and thought she looked overweight.
"I thought, 'Right, something needs to change here.'
"It wasn't drastic to begin with. But it can escalate so quickly. It feeds into daily life more than you can appreciate, if it's [anxiety] not something you've experienced.
"When anxiety starts impeding on your daily life then that's when it becomes more of a problem."
Rosie says she found her problems difficult to deal with in school.
"When people see any self-harm they immediately think it's attention seeking," she said.
"Although it's a cry for help, it's not a cry for attention. The conversation never arises for you to talk about mental health. There's nothing wrong with talking about it."
She added services like MindFull would help young people understand anxiety and depression and would help them stop mental health being such a stigma.
"It's just brilliant," she said. "I'm really feeling like there's steps forward going on."
Expert's view: Lalagie Harries
Head of counselling at Mindfull, Lalagie Harries, says anxiety can have a range of symptoms.
"[It's] like physical pain," she said. "It can be disruption in sleeping and eating.
"It can be just sudden outbursts of anger and irritability, finding you're just shouting at people and you don't understand why.
"It can lead young people to feel really guilty about their reaction.
"Peer mentoring is really helpful. We train young people to support their peers around them in their schools."
Lalagie Harries says it can be confusing to figure out if your feelings of anxiety are just part of growing up or worth getting help with.
She said: "If you're asking questions and feeling like maybe there's something missing, you don't have to be able to label it or put a name to it - ask for help."
Follow @BBCNewsbeat on Twitter