Lions fans head to final match against Australia in Sydney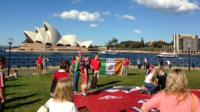 The British and Irish Lions play in Sydney's Olympic Stadium in the series decider on Saturday night.
Lions fans are based in the city around the bars of the Opera House enjoying £10 pints and £8 hot dogs but Wallabies jerseys are few and far between.
It will be different at the stadium.
With an 85,000-seater capacity, the out of town stadium is likely to have more Australian fans than the other games on the tour, which have been largely red.
New South Wales is also more of a hot bed for Australian rugby compared to Aussie rules football that dominates in Victoria, where the last test was played.
The Australian Rugby Union have been handing out yellow lion hunting hats to fans to create a more yellow look at games.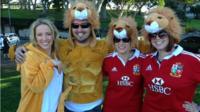 Rachel Bevan, 26, is an account manager from Manchester who has flown out to see the games and meet her friends, who live in Sydney.
"I'm feeling pretty good," she said. "There have been a lot of questions about the selection for this week's game but all we can do is get behind Warren Gatland, get behind the squad and cheer them on for this week's game."
The rivalry when British teams come to Australia is always a special one.
"I'm more worried about the Lions fans than I am about the Lions players," said Wallabies fan and Sydney TV station worker Elle Southwood.
"I mean you guys are probably more economically stuffed than we are but the Wallabies need this."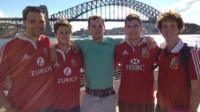 The bookies have Australia as favourites and they know the Lions haven't won a series for 16 years.
They beat South Africa 2-1 in 1997 before losing to Australia, New Zealand and South Africa in 2001, 2005 and 2009.
It will be another four before they have the chance again.
For many fans it's been a long trip that began in early June in one of the most expensive countries in the world.
Jack Allen, 21 has travelled from Rutland with four friends.
"We've been chucking a ball around in front of the Opera House," said Jack. "We're super-excited but worried about the lack of Bod (Brian O'Driscoll)."
Many are using the trip as a way to travel around on a gap year, hiring camper vans and driving north up the coast for the better weather.
Despite that it's still 22 degrees in Sydney and locals call this mid-winter.
Follow @BBCNewsbeat on Twitter