Newsbeat's guide to... Egypt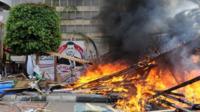 Egypt has declared a state of emergency lasting one month, after security forces and protestors clashed at camps in Cairo.
The Muslim Brotherhood says hundreds of people have been killed but authorities say the death toll is much lower.
Demonstrators are supporting former President Mohammed Morsi and have been occupying the city's Nahda Square and the Rabaa al-Adawiya site since he was removed from power on 3 July.
Witnesses describe hearing gunfire and explosions, with wounded people being treated in makeshift hospitals next to dead bodies.
A cameraman working for Sky News, Mick Deane, has also been killed in the violence.
There are reports of unrest in other parts of Egypt.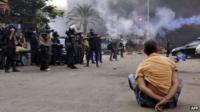 Who are the protesters?
Mr Morsi's supporters want him to return to power. Most days they hold a rally in support of him.
On 27 July, more than 70 people were killed in clashes with security forces at the Rabaa al-Adawiya sit-in.
Security forces were accused of using unnecessary force while the protesters were accused of using firearms.
People opposed to Mr Morsi have also taken to the streets. Both groups blame each other for Egypt's problems.
More than 250 people have died in clashes with the security forces in the six weeks since Mr Morsi's overthrow.
Top judge, Adly Mahmud Mansour, has been sworn in and will be acting president until there is an election.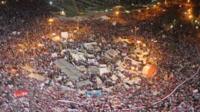 Egypt - the country
Egypt is mainly Sunni Muslim country with Islam as its state religion but there is also a Christian minority.
It is the largest Arab state in the Middle East with a population of about 83 million people.
It is generally seen as a friend to the West and has close links with America.
Around a million British tourists go on holiday there every year, with the Egyptian economy heavily dependent on it.
Since President Morsi took power last year, the economy has gone downhill.
Government debt grew from $30bn (£19bn) last year to around $40bn (£26.5bn) today.
Who is Mohammed Morsi and how did he become Egyptian leader?
Mohammed Morsi rose through the ranks of Egypt's Muslim Brotherhood, an Islamist movement that was banned for decades.
He won the presidential vote in June 2012, becoming Egypt's first democratically-elected president.
That election, which was generally considered free and fair, came about after the previous leader President Mubarak was ousted in February 2011.
He had been in power for almost 30 years and was forced from power by large-scale demonstrations.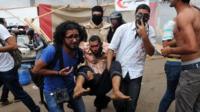 Why did the military act?
The Egyptian military seized power in an effort to avoid the country falling into chaos after violent protests.
Although the UK and US aren't using the phrase military coup, they have called for calm.
Instability in Egypt is a concern for the West. It is a key ally when it comes to shaping foreign policy towards key countries like Iran.
It was the first Arab country to sign a peace treaty with Israel and it has been credited for helping to keep the area peaceful.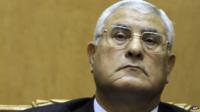 What will happen next?
The state of emergency in Egypt will last for one month.
Adly Mahmud Mansour is still in charge as Egypt experiences a transitional period until a new president is elected.
It is unclear how long that process will take, or what role the military will continue to have.
Follow @BBCNewsbeat on Twitter