Benicassim Festival 2013 'unaffected' by sale of shares
4 July 2013

From the section

Music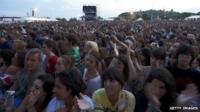 Organisers of this year's Benicassim Festival say it is in "no way affected" by the sale of shares by its majority shareholder.
Promoter Vince Power confirmed in a statement that he'd sold his share in the event, which takes place every year on the Costa del Azahar in Spain.
"Music Festivals PLC had suffered a bad year," the 66-year-old said.
"I am pleased we have found great partners to take Benicassim forward and guarantee it is secure and solid."
Vince Power also blamed the "bad economic climate" which he says prompted him to sell a major shareholding in the festival.
The Killers, Queens of The Stone Age, Arctic Monkeys, Primal Scream, Beady Eye, Dizzee Rascal and Hurts are just some of the acts due to appear this year.
Organisers say they are keen to stress the changeover will not affect this year's festival and that it will go ahead as planned between 18-21 July.
Denis Desmond, founder of MCD Productions and SJM Concerts, has jointly acquired a major shareholding in the event's parent company Maraworld SA.
Vince Power will remain a shareholder in Maraworld SA and will continue as the company's managing director until August.
He added: "FIB (Festival Internacional de Bennicassim) is one of the world's most established and best-loved live music events and I wanted to ensure the future of the festival for many years to come."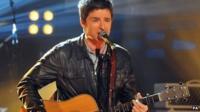 There had been speculation that this year's festival would be cancelled after Vince Power's company Music Festivals PLC went into administration last September.
The company, which was also behind the cancelled Hop Farm Festival, was worth £310,000 at the time of its collapse.
The festival organiser opened his first venue, The Mean Fiddler, in north-west London in 1982.
He launched and backed many more venues and events, including London's Forum and Reading Festival, turning Mean Fiddler into the largest promoter in Europe.
In 2002, he took operational control of Glastonbury and sold Mean Fiddler in 2005 for £38 million.
Next year Benicassim celebrates its 20th anniversary.
Follow @BBCNewsbeat on Twitter