ITV threatens C4 with legal action over Corrie expose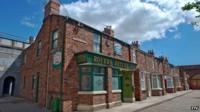 ITV has threatened Channel 4 programme makers with legal action after an investigation into Coronation Street stars accepting and promoting freebies.
The Dispatches show set up a fake booth at a "gifting event" in Manchester.
Coronation Street stars accepted bogus beauty and health products which they then mentioned on Twitter.
ITV has written to programme producers saying the show is "highly defamatory" and it is warning legal action could follow if the station broadcasts it.
Programme makers are said to have set up a fake brand called Puttana Aziendale, which translates from Italian as "corporate whore".
They gave away an anti-ageing skin toner and an energising bracelet.
Soap actresses including Catherine Tyldesley and Brooke Vincent were pictured carrying bags for the fake brand at the event.
Brooke Vincent only seemed to say thank you for the bracelet on Twitter.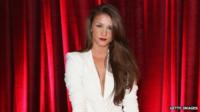 The programme was investigating whether celebrities broke Advertising Standards Authority (ASA) rules which say plugs for free products should clearly be marked as adverts.
An ITV spokeswoman said: "The programme has made allegations that are false and highly defamatory and we have written to the producer threatening legal action if they decide to broadcast."
A further ITV statement added: "Cast members responded to tweets sent directly to them by some brands to say thank you.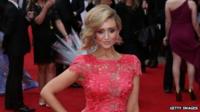 "Contrary to the allegations which have been made, they didn't receive free gifts in return for tweeting or indulge in any kind of unlawful marketing promotion."
A Channel 4 spokesman said: "We don't comment on upcoming Dispatches programmes."
It is understood no transmission date has been set for any broadcast.
Follow @BBCNewsbeat on Twitter