Kerry Katona files for bankruptcy for a second time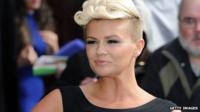 Kerry Katona has declared herself bankrupt for the second time in five years.
The reality star filed a petition on 2 July at her local office in Wigan, according to The Insolvency Service.
As a result she has also been let go as the face of Cash Lady, a payday loans company.
A spokesperson for Cash Lady said their commitment to "responsible lending" means they would be unable to continue working with the singer.
"We were sorry to hear about Kerry's current financial situation.
"Clearly, as a business, we are committed to responsible lending, so it is with sadness that we will not be able to continue using Kerry as the face of Cash Lady.
"We enjoyed working with Kerry a lot, and we wish her all the best in her future endeavours."
Although spokespeople for the 33-year-old Atomic Kitten star have been contacted, Kerry Katona is yet to release an official statement.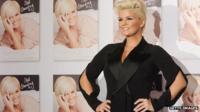 The morning she filed for bankruptcy she tweeted: "Hold your head high and be proud, never be ashamed! Always try your best and believe in yourself!"
Later she added: "No matter what life throws at you, hold your head high and know you've done your best!"
In May a television advert for Cash Lady was banned by the Advertising Standards Authority (ASA).
People complained it was irresponsible because it focused on her financial problems and encouraged people in similar situations to borrow cash.
Other viewers said the advert suggested the money could help fund a celebrity lifestyle.
Labour MP, Stella Creasy also spoke out about the promotion saying: "I'm surprised to see somebody who understands what it's like to be in debt promoting a type of debt that we know causes debt."
The ad for PDB UK, trading as Cash Lady, featured Kerry Katona saying: "We've all had money troubles at some point, I know I have. You could see your bank and fill in loads of forms, but is there an easier way to get a loan."
Cash Lady said the singer was chosen as its "face" because she had experienced money troubles in the past and their customers would be able to relate to her.
Follow @BBCNewsbeat on Twitter