AlunaGeorge announce UK headline tour for October
3 July 2013

From the section

Music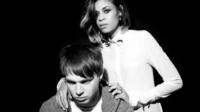 AlunaGeorge have announced details of a UK tour for October.
The electronic duo from London will start their shows at The Waterfront in Norwich on 12 October and finish in Nottingham on 30 October.
It comes as they have just revealed the details of their debut album Body Music which will be released on 29 July.
The pair have already had chart success with their single Attracting Flies and collaborating with Disclosure on their number two hit White Noise.
They say a lot of the album is less commercial than the tracks they have already released.
"That was a thing we were really excited about, putting an album out that we didn't have to have all singles on," explains Aluna Francis.
"There are singles on there that you would never try and push out to a huge audience, they're some of our more favourite songs actually."
The male half of the duo, George Reid, says "It's maybe not so immediate, that's the thing, sometimes it takes a little bit of time for a song to take shape."
Re-released single
AlunaGeorge are re-releasing their track You Know You Like It on 28 July. It previously charted at number 55 in April 2012.
Now with more success behind them, they've remade the video for the track with a bigger budget.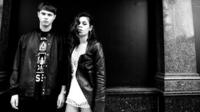 "It couldn't go on the telly because it wasn't high enough definition when it was filmed," Aluna explains.
"We spent £200 on it, where that money didn't get spent was on the level of cameras we had to work with, so that was it, we had to do another one."
The new video sees the pair dancing in an empty swimming pool.
"That swimming pool's not been in use for a long time but there was a really nasty bit of liquid at one end that everyone was avoiding," Aluna laughs.
"It was horrible, it was like the very deep end of the pool, just had a complete cesspit of evil in it. It was disgusting."
Follow @BBCNewsbeat on Twitter